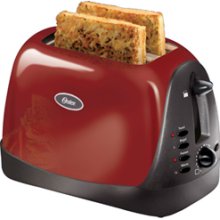 Our pretty red toaster died this week.
Sunbeam Oster. It wasn't even three years old.  I know, I know, they don't make things like they used to.  But it's just a toaster, it's supposed to be pretty fundamentally simple.   Remember the toaster in Red Dwarf?  The joke was they had put all the crazy AI and voice tech in the toaster such that it drove the user crazy suggesting that "now was a great time for a piece of toast."  Well, this one just has a bunch of buttons for various preset bread types, and a dial for darkness.  Nothing terribly cutting edge.  (Wait a minute… bread type settings?)
Reading up on this brand I see comments about failures and people opening it up to find "scorch marks on the circuit board" and how they really didn't think they had the components to fix the board themselves. Which lends to three questions:
1. There are people who consider trying to fix the circuit board in a $40 toaster?
2. How did we get along for decades with toasters before we had integrated circuits?
3. And why doesn't this thing connect to our WiFi so it could have downloaded an update that might have prevented the scorching, or at least a security patch?
Feeling a little weird about disposing of the toaster too.  I guess it goes on the pile of outdated or broken tech junk waiting for a tech recycling day at the local middle school.  Given it has circuits it's likely there are components that shouldn't go into landfill.  And it's still so shiny and pretty, it feels wrong to dispose of it just yet.  Maybe we can rip the guts out and make it into a planter.  Isn't that the solution for so many of these problems?