I said it earlier, there are just far too many good films to see at Cinequest.  Balancing the viewing with the reviewing is a tough act, and I'm a bit behind.  So today we'll catch up on a few highlights from the festival.  So in no order that you'll be able to discern…
Eye in the Sky
Cinequest's opening night film featured the last performance of Alan Rickman, and he brings it.  Hellen Mirren as Colonel Katherine Powell turns in a performance in keeping with her status as one of cinema's great actors as she displays amazing depth in commanding an operation to take down two of the leading terrorist threats and try to prevent an impending disaster. The human element in Eye in the Sky is shown on two levels, both the "estimated/acceptable innocent casualties" in a preemptive strike balanced against the potential devastation of delaying that same strike.  It's tense and heart wrenching as we focus on a young girl selling bread just outside the drone strike target, and the last ditch efforts to extract her before everything goes boom.

Technically this is a fairly amazing film, showing what I expect are not exaggerated technologies for observation and elimination of enemy threats. The pace is fast, the film unfolds in real time, and while there isn't a ticking clock here, there is a rapidly approaching deadline which raises the tension with each passing moment.
Touching on so many hot points of today's war on terror, Eye in the Sky does what films do best; starts conversations on topics where there are no clear answers, no easy solutions. There isn't a sour performance in the group, and Rickman takes a role that might have otherwise been forgettable and provides a character that can sum up both sides of the argument in a few sincere lines. Similarly Breaking Bad's Aaron Paul is surprising as a young drone pilot who must wrestle with his conflicting conscience and the commands he's been given as he literally has his finger on the trigger.
Highly recommended.
Directed by Gavin Hood.
Friends Effing Friends Effing Friends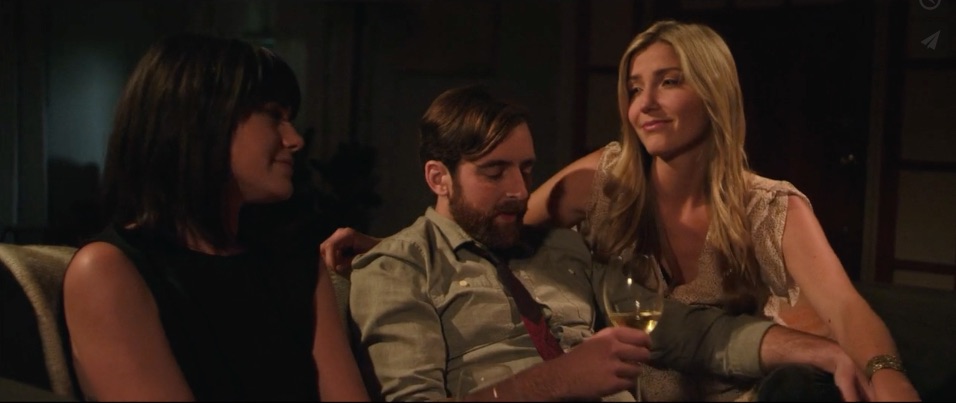 Let's leave it at this.  This is one of my top three films for Cinequest 2016. Just a solid piece of work, with a great cast, clever script, and very clean camera work.  It doesn't hurt that this commentary on the sexual adventures of a few friends who are continuing to see greener grass on the other side is complemented by a cast that delivers Quincy Rose's lines perfectly. And that they are uniformly attractive enough that we appreciate their temptations helps too.  Read my earlier review or listen in to the Fanboy Planet Podcast where we all sit down to talk about… everything.
Hurry though, the last Cinequest showing is today at 4:30pm.
Demimonde (Félvilág)
Set prior to the beginning of World War I, Demimonde is an accessible period drama with commentary on class, getting ahead in society, and the price replacing friendship with betrayal can exact. A young woman talks her way into service of "The Lady", a kept woman who entertains some of Hungary's more elite, both socially and sexually. Friendships both false, convenient, and true are born between the maid, the lady's housekeeper, and the lady until drastic and fatal measures come into play.
There are some fairly ornate sets and an unbroken air of the old-world charm evidenced throughout the film, but the undercurrent of untold stories and origins darkens this gaslight drama. A compelling set of characters moves us through deception and broken promises.  Not necessarily complex, many will jump to the ending long before the story actually gets there. But it seems unlikely they'll stop watching.
Parabellium
How do you prepare for the impending end of the world? You enroll in End of the World Camp.
We follow a few potential survivors through this training and their eventual re-release back into the world as it drifts towards armageddon. The training seems almost surreal in this Spanish film by Lukas Valenta Rinner, and the individuals never quite engender themselves beyond somewhat vague archetypes. Still the training takes on an almost summer vacation camp aspect, bizarre given the paramilitary nature, and when our group heads out into the jungle with no stated goal that we're aware of, things get appropriately surreal in a manner reminiscent of Apocalypse Now's jungle experiences.
Parabellum is perhaps filled with more questions than answers, but once you join everyone in their training it is very hard to look away.
Lost In Munich
Director Petr Zelenka provides us with what seems a simple enough, if somewhat improbable, tale of a parrot who can recite some particularly embarrassing history, and the journalist who steals him so that that historical view can be told to the world.  At its heart, this drama/comedy could simply be a series of encounters and rising political farces, but Zelenka has something else in mind.  Without spoiling the twists, and they are fundamentally impossible to foresee and fundamentally unique, the entire cast takes on a new… well, that would be telling.  I really don't want to go further here, at risk of spoiling your fun.
Still, at the risk of saying too much, if you have loved films like Day For Night or The Stuntman, you're going to enjoy Lost In Munich.  And if you don't, it's not too much of a stretch to say this is a film experience that film lovers looking for new experiences will appreciate.
The Phoenix Incident

Another film we covered on this week's Fanboy Planet Podcast, The Phoenix Incident is  a dramatized documentary. It mixes real-life reports of a sighting over Phoenix witnessed by thousands and a supposition as to what was actually going on told through found footage of four men lost to the experience.
While the surprises here are primarily the kind you expect to find in thrillers, it's intriguing due to the basis in fact and all of the actual footage that merges seamlessly into the drama.
And I do advise you to stay all the way through the credits.  Yes, it's one of those.
That's it for now.  I'm trying to focus on recommending films that Cinequest attendees still have a chance to see, as well as those I'm confident you're likely to see in other festivals throughout the year.  Cinequest lasts through the weekend, with encores based on attendee score cards sponsoring additional Sunday showings.  The winning films will be announced Saturday afternoon, so some of the films no longer scheduled may be reborn into the schedule on Sunday.
Keep watching, I'll be covering another group this Saturday with highlights of encore performances and awards!
-Ric Bretschneider
March 10, 2016
It's film festival season again! Cinequest 2016 starts on March 1st and runs through the 13th, so if you're in the San Jose / San Francisco Bay Area you might check out the films and events for this year.  And watch here and at Fanboy Planet for upcoming reviews and podcasts from the Planet's crew.